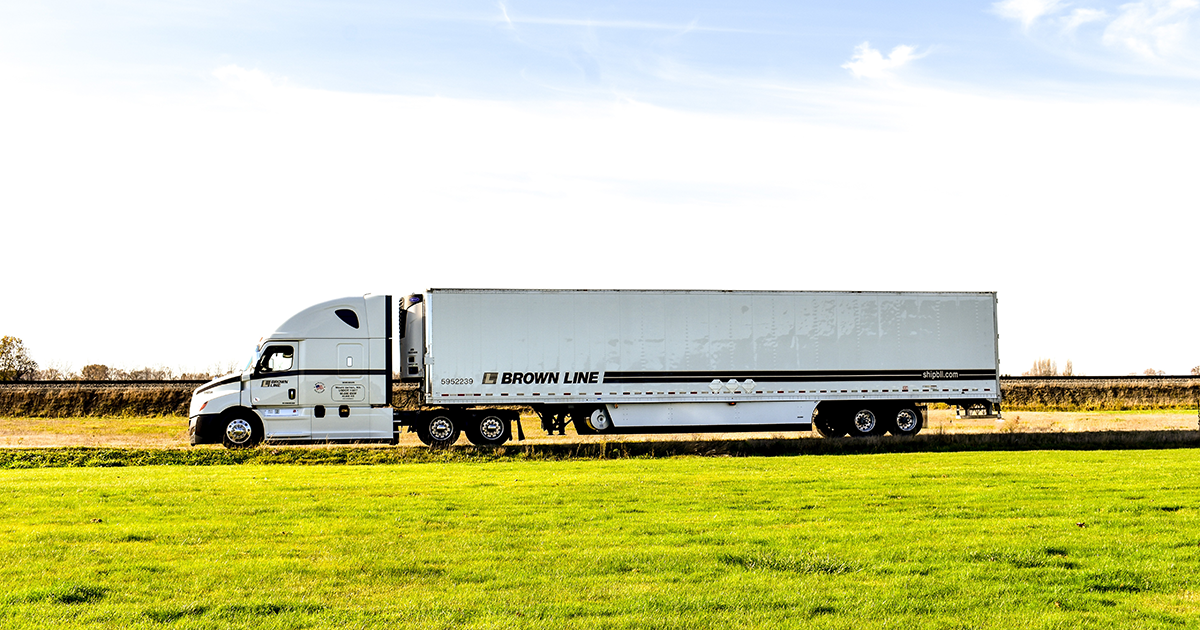 Brown Line's fleet, part of the Lynden family of companies, is among the most efficient fleets in the nation and the company has once again earned the SmartWay High Performer Award from the Environmental Protection Agency (EPA).

According to the SmartWay Transport Partnership, just over two percent of all SmartWay carriers operate fleets so clean and efficient that they make the SmartWay High Performer list for all metrics. Whether its carbon, particulate matter or nitrogen oxide, high-performing SmartWay carriers drive cleaner, emit fewer of these pollutants – and burn less fuel – for every mile they travel and for every ton of freight they move, as compared to their SmartWay peers.

"Our team is proud to receive this award two years in a row," says Brown Line President Bill Johansen. "We continue to work with our drivers on improving driving habits to minimize idle time, sudden starts and stops and to improve mileage. This recognition is shared with the entire Brown Line team."

Since 2007, Brown Line has invested in new aerodynamic tractors and trailers, wide-base super single tires and high efficiency engines, dramatically improving miles per gallon (MPG), reducing idle time and lowering carbon emissions.

In the last five years, Brown Line has improved its fuel economy by nearly 40 percent as reported to the U.S. EPA SmartWay Transport Partnership. Most of Brown Lines' fleet is less than 5 years old. The new tractors are equipped with modern emissions control systems that significantly reduce air pollution. Since 2012, Brown Line's fleet has reduced its nitrous oxide and particulate matter emissions per ton mile by 44 percent and 62 percent respectively.

Over 75 percent of Brown Line reefer units are plug-in and have contributed to a nearly 90 percent decrease in idle time since 2010. "As new trailers are purchased our goal is 100 percent," Bill says. "This year we will be testing a new aerodynamic system in place of trailer tails that is designed to reduce the low pressure drag behind the trailer. The new system is expected to increase fuel economy and durability while reducing weight."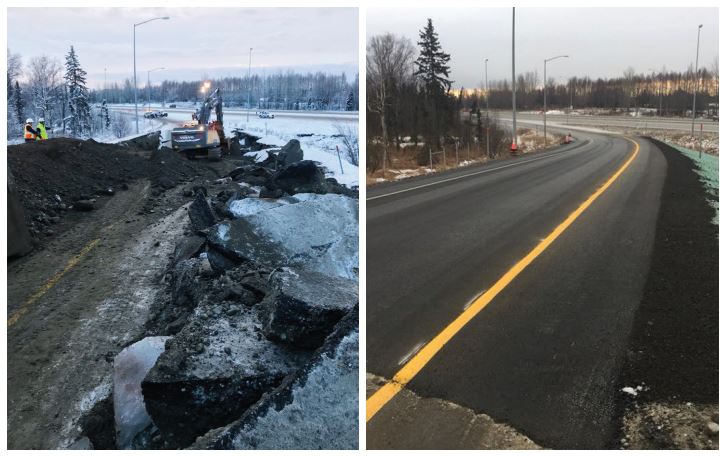 A 7.0 magnitude earthquake rattled Anchorage at 8:30 a.m. on Nov. 30. Shortly after Alaskans were back to their routine in part due to how quickly Knik Construction mobilized to fix the many roads that collapsed – especially the section of highway that carries traffic from the Kenai Peninsula and Anchorage to the Anchorage airport.

Within an hour of the quake, Knik President Dan Hall placed a call to the Alaska Department of Transportation (AKDOT) offering to assist in the repair of eight breaks in essential travel that were deemed highest priority for transportation. "Within two hours of getting the go-ahead to start work on the northbound Minnesota Highway Exit at International Airport Road and a small stretch of road in the Soldotna area, Knik employees were ready to go to work," Dan explains. Just 72 hours after the earthquake and despite 4.0 aftershocks, Knik crews repaired the collapsed highway, paved it, striped it and opened it to the traveling public. "Knik's ability to react in this timely and professional manner is a testament to the people that we employ. The credit goes to our team that jumped in to help," Dan says.

Paving in the winter isn't ideal, but if done quickly, heat can be retained in the asphalt mix to allow for proper compaction and to give the surface treatment a chance for long-term success. "Knik crews worked alongside our subcontractor McKenna Brothers in the paving process and completed a very successful project," Dan says.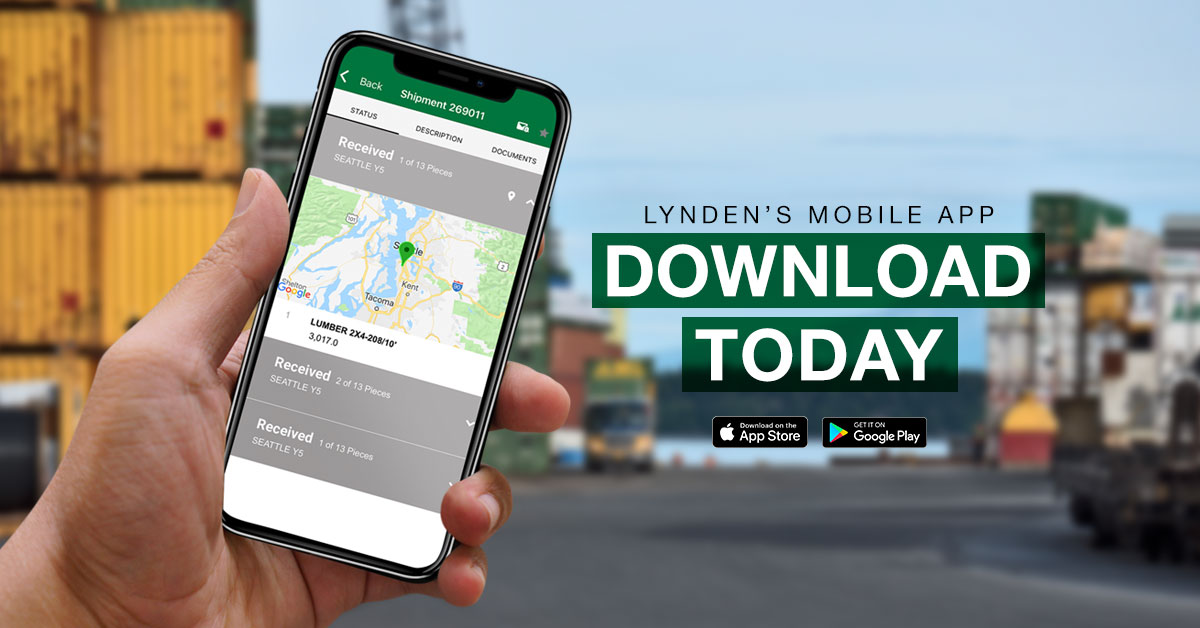 Lynden is offering customers the latest in convenience and technology with an all-new version of the free mobile app. Our new mobile app was developed based on feedback from customers and provides accurate, up-to-date shipment information directly from your smartphone! Available for both iPhone and Android phones, the app allows customers to log in to their Lynden EZ Commerce accounts to easily view all of their shipments and sort, filter and search to find exactly what they need. Convenient options such as saving frequent searches or marking important shipments for quick reference are also available.
"We know our customers are busy and most depend on their smartphones on a regular basis," says Ryan Dixon, Lynden's Director of Marketing and Media. "Many of our customers have enjoyed using our mobile app over the past few years, but one thing that has been frequently requested is the ability to log in to EZ Commerce through the app so shipments can be tracked without having to remember or enter tracking numbers. This is now a core feature of the new mobile app, and we think our customers will find the experience a major improvement."
Other features of the app include the ability to receive status updates via email for specific shipments and viewing and emailing documents such as bills of lading, delivery receipts and invoices. The option to track individual shipments without EZ Commerce is also still available, and the claims submission process is streamlined through the app.
Download the app today! Visit www.lynden.com/mobile, or search "Lynden" on the App Store or Google Play.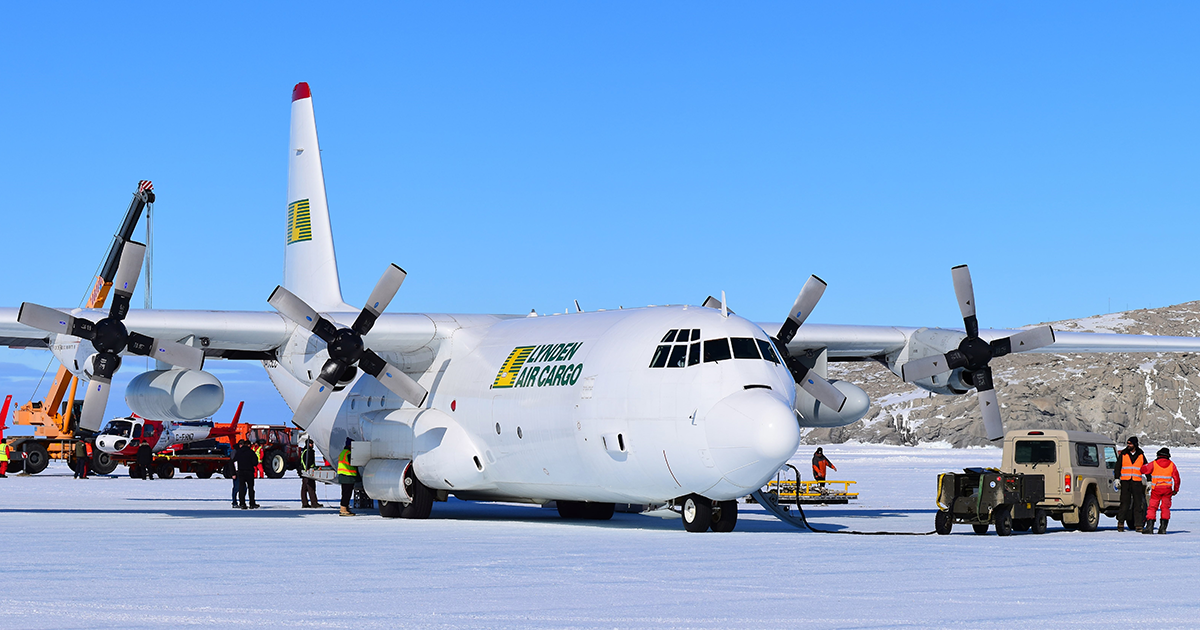 "Antarctica was the final continent on our checklist," says Lynden Air Cargo President Rick Zerkel. "Now we can cross it off." Lynden Air Cargo has joined a short list of operators that serve all seven continents by starting a new project in support of an Italian Antarctic Expedition team doing research on the icy land mass.

The month-long mission lasted from Oct. 30 through Nov. 30 and involved carrying supplies from Christchurch, New Zealand to Italian base Mario Zucchelli Station and Phoenix Field at McMurdo Station, the U.S. base in Terra Nova Bay, Antarctica. According to Lynden Air Cargo Captain Pat Madland, Terra  Nova Bay is about 2,000 miles and 7 hours from Christchurch, and Phoenix Field is 300 miles further south and about 8 hours flying time. "This was accomplished with an augmented crew to allow for rest," Pat explains. "We also carry a loadmaster and mechanic." The whole operation requires nine people on the ground in Christchurch.

"This high-profile project illustrates Lynden Air Cargo's capabilities in remote locations," says Adam Murray, Director of Business Development and Marketing. "With 98 percent of the continent covered in ice, there are no cities or villages. This is another addition to our capabilities and we hope to provide this service next year and on an ongoing basis if possible."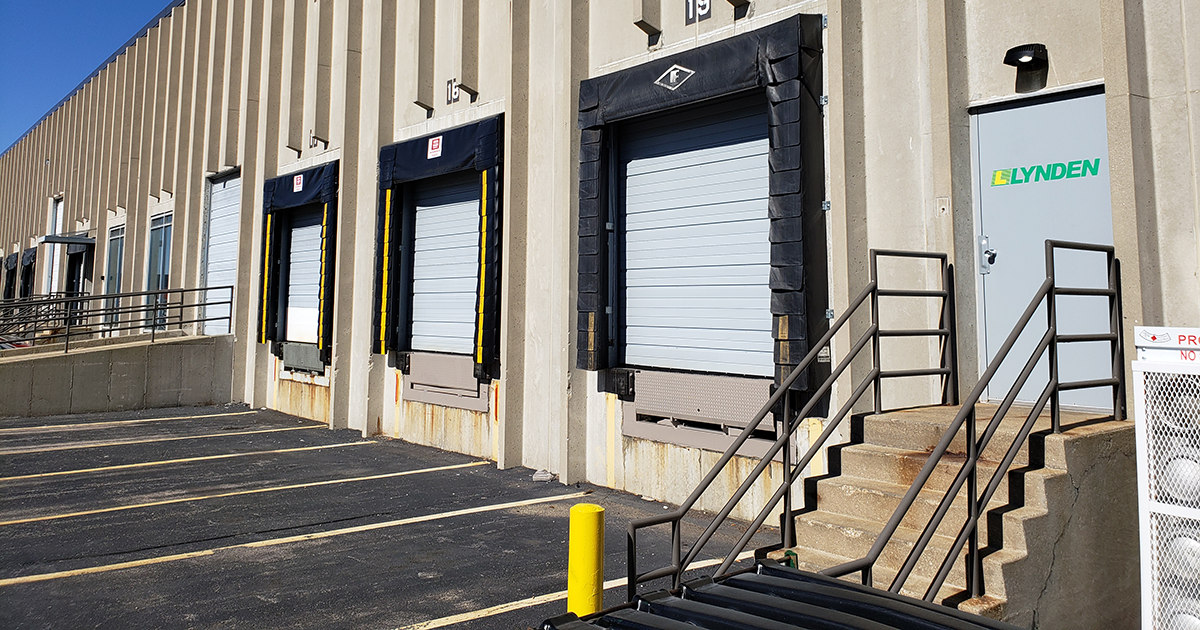 Lynden International's Chicago office recently moved to a new facility. According to District Operations Manager Jason Hiti-Shannon, along with 50 percent more warehouse space, the office features upgraded IT infrastructure and security systems to better serve a diverse and growing customer base.

"We look forward to using this facility to further our goal to be a significant player in our markets and in advancing the One Lynden brand throughout the Midwest," Jason says.